Our in-house Physical Therapy Department has licensed therapists who work closely with our physicians to develop individualized, rehabilitation programs. Our staff are experienced in handling various orthopedic and sports related conditions. They manage patients with acute and chronic conditions, as well as post-operative rehabilitation.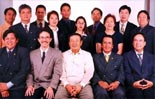 The Philippine Orthopedic Institute (POI) Foundation, Inc. is an organization that is devoted to the advancement of the science of Orthopaedics in the Philippines. The Foundation was established in 1995 as a non-stock and non-profit body with a board comprised of Orthopaedic Surgeons. The Foundation's missions are to upgrade the practice of orthopaedics, promote quality research, provide the condition for excellent orthopaedic training, and support activities directed towards new innovations in orthopaedics.

The same POI quality and care may now be experienced in the heart of Quezon City.
The Loyola International Multispecialty Clinic, a sister company of POI, is located at:
2nd Floor Elizabeth Hall Bldg
Katipunan Ave., Quezon City, Philippines
Or you may call 433-5462 / 435-5462 or mobile +63917-8335642